Chimichurri Sauce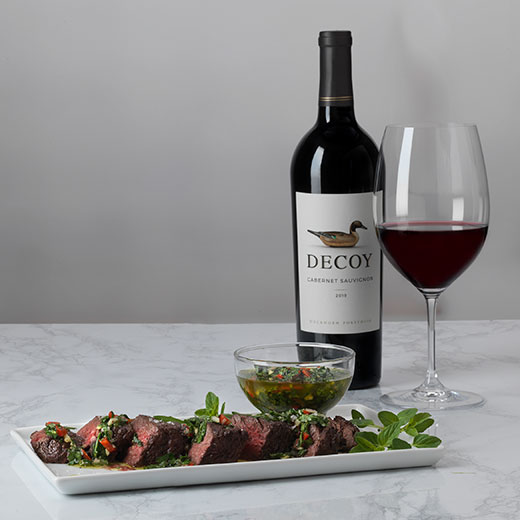 Yield: 4-6 servings as condiment
Prep: 5 minutes | Cook: 15 minutes
Total Time: 20 minutes
This green sauce is a snap to make and is a great accompaniment to any protein. Try it on grilled portobello mushrooms, steak or chicken - or even drizzled over potatoes.
Ingredients
½ cup Italian parsley, chopped
¼ cup oregano, chopped
¼ cup cilantro, chopped
1 Tbsp mint, chopped
1 small shallot, minced
2 cloves garlic, minced
2 Tbsps red or champagne vinegar
½-¾ cup extra virgin olive oil
1 small chili pepper - charred, seeded and minced (or substitute a pinch or two of chili flakes)
Directions
Over an open flame or in a pan over high heat - char the pepper on all sides. Set aside to cool. Cut in half and discard all the seeds. Mince the pepper and place half of the pepper in a bowl.
You can chop all the fresh herbs by hand or toss them into a food processor with the garlic and shallot and pulse until chopped. Place herbs in a bowl with the chili.
Add the vinegar and whisk in the olive oil. Add salt and freshly ground pepper to taste and adjust other seasoning as needed. Add more chili pepper if you prefer more heat.
Place in refrigerator until ready to use. Take out 15 minutes before using.
Take a look at our recommended pairing below.
Pairing Recommendation - Cabernet