Cranberry and Brie Bread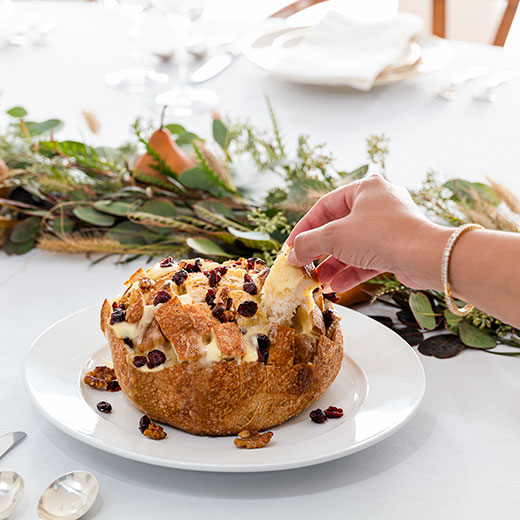 Yield: 8-10 servings
Prep: 10 minutes | Cook: 30 minutes
Total Time: 40 minutes
A beautiful party appetizer, this pull-apart cranberry and brie bread will be a favorite among your guest. The creamy Brie cheese, toasty walnuts and tart cranberries pair well with the high acidity of Sauvignon Blanc.
Ingredients
1 small round of sourdough (6 -7 inches)
½ cup walnuts - chopped
2 tbps maple syrup
pinch of cayenne pepper
8 -10 ounces Brie cheese
1 cup dried cranberries
1 tsp fresh thyme
Directions
Heat oven to 350 degrees.
Heat a small skillet over medium heat - add the walnuts, maple syrup, cayenne and a pinch of salt. Toss to coat all the walnuts and cook for 3-5 minutes until starting to brown. Remove from heat and place nuts on a plate to cool.
Place bread on a parchment lined baking sheet. With a serrated knife, cut horizontally and vertically through the bread to create small, roughly 1 inch squares, be careful not to cut all the way through the loaf.
Cut the brie into 1-2 inch slices about ¼-½" thick. Place the brie in between the cubes of the bread all around.
Break walnuts into pieces if stuck together and place in and around the brie.
Sprinkle the cranberries in and around the cubes of bread as well. Sprinkle with fresh thyme.
Bake for 15-20 minutes until the brie is melted to your liking.
Transfer to a serving board and serve immediately.
Take a look at our recommended pairing below.
Pairing Recommendation - SB