Beef Bourguignon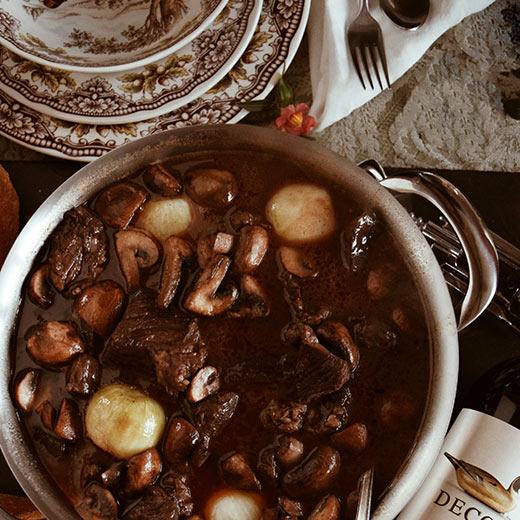 Yield: 6 servings
Prep: 20 minutes | Cook: 3 hours
Total Time: 3 hours, 20 minutes
Recipe Courtesy of: Living the Gourmet
Ingredients
3 lbs. chuck roast – cubed and pat dry with paper towel
3 cups red wine
2 cups beef stock
1 tbs. – tomato paste
½ tsp. salt
1 – 2 bay leaves
½ tsp. dried thyme
2 cloves garlic – crushed
1 lb. shallots
1 lb. mushrooms
Olive oil for drizzling
Butter
3 tbs. flour
Loaf of French Bread
Green leaf salad
2 lbs. Potatoes
Fresh Italian Parsley
Directions
Preheat Oven 325 Degrees F.
Cube chuck roast and pat dry with a paper towel.
Heat a large cast iron frying pan with 2 tbs. of olive oil. Place the cubed meat in the pan to get a nice golden color on each side. This should take about 2 – 3 minutes.
Deglaze pan with the wine, scraping up all of the bits from the pan.
Place the meat in a pot with the wine and deglazed bits along with the beef broth, salt, bay leaves, garlic and black pepper.
Bake for about 2 ½ to 3 hours.
While baking, gently and carefully, place each onion on a spoon in simmering for about 20 seconds and remove.
Gently remove the skin from the onion and slice the tip off and place a small slit at the end.
Place the onions in a pan with about ½ cup of water and 2 tbs. of butter and cover. Simmer for about 25 minutes. Remove from the water and set aside.
Clean and thoroughly dry the mushrooms. Cut the mushrooms in half.
Place 2 tbs. of butter and 2 tbs. of olive oil in a large cast iron frying pan. When the butter stops bubbling, place the mushrooms in the pan to get a slight golden color and remove. Set aside.
Remove the pot from the oven and drain using a colander into another pot.
Make a paste with 3 tbs. of flour and 2 tbs. of softened butter. Whisk the paste into the drained broth then put over a gentle heat and bring to a boil for a second or two.
Put the onions, mushrooms and meat into the thickened broth. Simmer for another 2 – 3 minutes.
Tip!
Serve with boiled potatoes and parsley, a green leaf salad and French bread for a full meal!
Take a look at our recommended pairing below.
Pairing Recommendation - Merlot