Blackened Fish Tacos with Roasted Corn Salsa and Pickled Radishes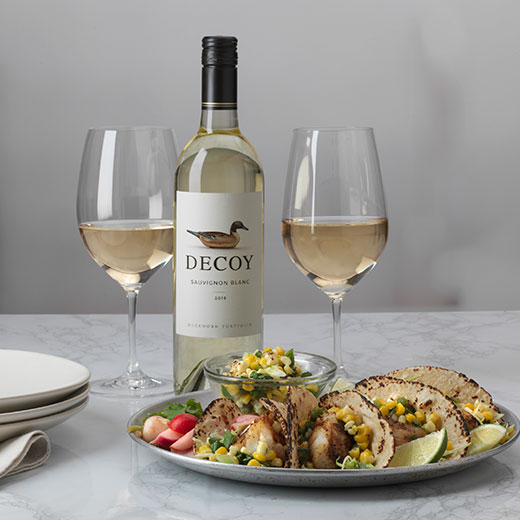 Yield: 4 servings
Prep: 15 minutes | Cook: 45 minutes
Total Time: 1 hour
Ingredients
1.5 lbs rockfish, halibut, cod or other firm white fish - cut into 3-4 pieces
8-10 corn tortillas
2 cups fresh corn cut from the cob
2 cloves garlic
2 scallions, thinly sliced
1 poblano pepper
2 cups finely shredded green cabbage
½ cup chopped cilantro
1-2 Tbsps lime juice
Olive oil
1 lime cut into wedges for garnish
salsa or other hot sauce for serving
Pickled Radishes
1 bunch radishes - cleaned, trimmed and quartered or sliced
½ cup apple cider vinegar
1 Tbsp salt
1 tsp sugar
1 cup water
The Fish
1 tsp smoked paprika
1 tsp cumin
1 ½ tsp chili powder
1 tsp dried oregano
1 tsp garlic powder
¼ tsp cayenne pepper
1 tsp salt
½ tsp freshly ground pepper
Directions
Pickled Radishes
Place radishes in a quart size jar.
In a small pot, bring the vinegar, water, salt and sugar to a simmer. Simmer until salt is dissolved, then remove from heat and pour over the radishes. Place the lid on the jar and let cool 15 minutes.
Place in the refrigerator until you are ready to use. These are best if made several hours or up to a day ahead, and will keep up to a month in the refrigerator.
Corn Salsa
Char the poblano pepper over a flame, in a hot pan or under the broiler. Once the skin is charred, place in bowl and cover with plastic wrap for 15 minutes. Peel, seed and chop the pepper.
Cut the corn of the cob.
Heat a heavy skillet over medium high, add oil. Once hot, add the corn and cook 3-4 minutes.
Add garlic, poblano, salt and pepper and cook a few more minutes. Place in cooked corn mixture in a bowl to let cool.
Add cilantro, lime juice, scallions and a drizzle of olive oil. Taste and adjust as need-ed. Set aside while preparing fish.
The Fish
Place all ingredients in a small jar and shake. You can also buy blackened seasoning in the spice section of some supermarkets.
Lightly salt fish and then sprinkle the seasoning on both sides, place on a plate. Store remaining seasoning in a jar for another use.
Heat a large skillet over medium high heat. Add oil. Once hot, gently place the fish in the pan, sear well and cook 4-5 minutes per side depending on how thick the fish is. Cook until done.
Place fish on a platter and serve with corn salsa, pickled radishes, limes wedges.
Heat tortillas over a hot flame or in a pan until warm and a bit charred on each side.
Take a look at our recommended pairing below.
Pairing Recommendation - SB