Buffalo Chicken Dip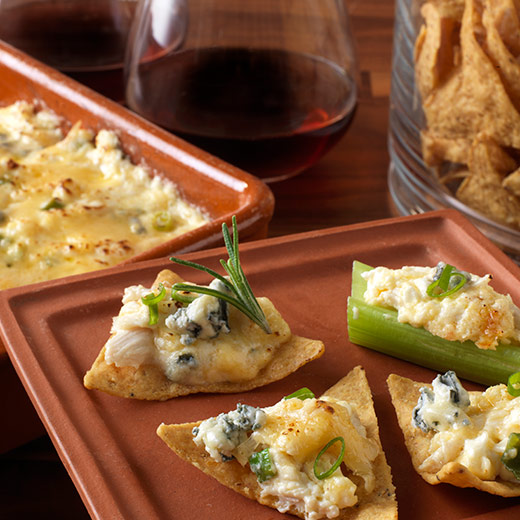 Serves 8 as an appetizer
Ingredients
8 oz cream cheese
1/2 cup mayonnaise
1 Tbsp hot sauce (such as Tabasco or Franks)
1 large garlic clove, minced
2 cups shredded cooked chicken
1 cup shredded cheese (cheddar, gouda and/or gruyere)
1/2 cup crumbled blue cheese (optional)
1/4 cup finely chopped green onion
1 tsp Salt
1 tsp Black Pepper
Tortilla chips and/or celery sticks
Directions
Preheat the oven to 375°F.
In a stand mixing bowl. Add the cream cheese, mayonnaise, hot sauce, and garlic and whip until combined. Fold in the chicken, 3/4 cup of the cheese, 6 Tbsp of the blue cheese (if using) and the green onion. Transfer the mixture into a 1-1/2 quart baking dish and sprinkle the remaining cheese over top.
Bake the dip for about 20 minutes, until bubbling. Turn on the broiler and broil 6 inches from the heat until lightly browned on top, a few minutes. Let stand for 5 minutes. Garnish with green onions and serve warm with tortilla chips and/or celery sticks.
Take a look at our recommended pairing below.
Pairing Recommendation - Red