Cheese and Charcuterie Board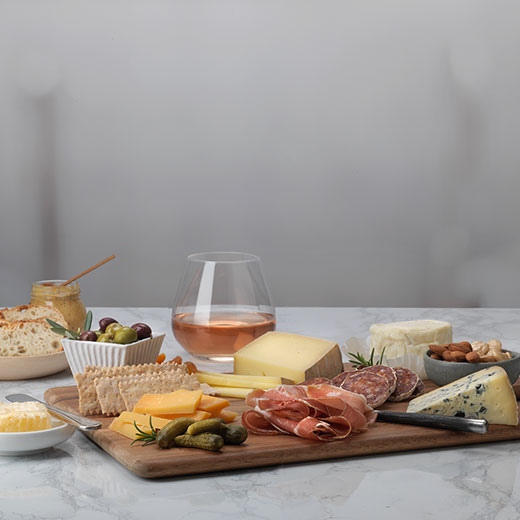 Yield: 4 servings
Prep: 20 minutes
Total Time: 20 minutes
Choosing the different components of a cheese board can be daunting. Here are a few things to help you when purchasing and preparing cheese.
A general rule is about 2 ounces of cheese and charcuterie per person as an appetizer plus all the other accompaniments.
Cheese
When purchasing your cheeses, you can go to a specialty cheese shop if you'd like, but most super-markets do have good cheese sections these days. With a good cheese section usually is a knowledgeable cheese monger who can make recommendations based on what you know you already like, and what.
With that said, it's best to keep to three or four cheeses, especially if you're serving other things on the board. Too many cheeses can overwhelm the palate.
Choosing a variety of cheeses that range in appearance, texture, milk source and flavor is always good. If you're a little unsure, a combination of soft, firm and hard cheese is good to start with.
Just remember there is no exact rule to follow when selecting cheeses, have fun and try new things.
Charcuterie
When it comes to choosing charcuterie for the board, 2-3 different meats is nice. Go for something pre-sliced like prosciutto, salami (there are many types to choose from), coppa or bresaola. Thinly sliced ham and turkey work well too. A paté or terrine can be a nice texture and flavor addition to your board.
Assembly
Choose your surface - wood, slate, a cutting board or a plate are all great options.
Bring your cheese to room temperature and place on the board. If possible, it is nice to have a different knife for each cheese.
Next it's good to add your crackers or baguette. A common misconception is that the crackers or bread should be stacked neatly in little rows, when, oftentimes some of the most beautiful and inspiring boards on Pinterest have mounds of crackers woven between the cheese and accoutrements.
Add pops of color with fruits, herbs and spreads. Dried fruits - cherries, cranberries, apricots, pears all work well.
Mustard, honey and preserves (we recommend fig, cherry or apricot) are all nice complements to the board, and look great when served from tiny bowls or jars with a small spoon.
Nuts, olives and gherkins can be a delicious finishing touch.
Most importantly, have fun with it!
Take a look at our recommended pairing below.
Pairing Recommendation - Rose