Chicken Marsala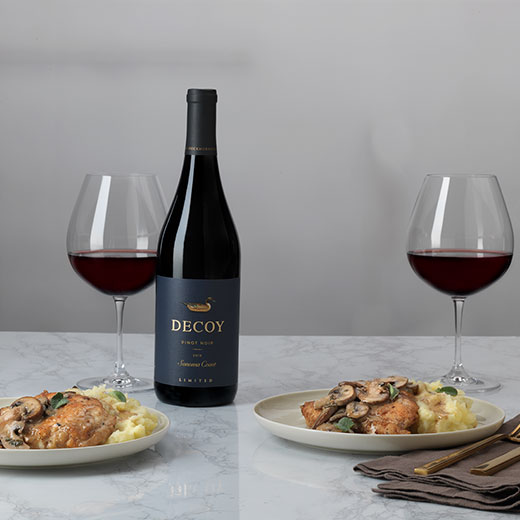 Yield: 4 servings
Prep: 20 minutes | Cook: 40 minutes
Total Time: 1 hour
This dish is made with Marsala wine, a fortified wine from Southern Italy. You can serve the chicken with buttered noodles, rice or mashed potatoes. The recipe is fairly easy, but is sure to impress.
Ingredients
3 chicken breasts, cut in half length wise
2/3 cup marsala dry wine
10-12 oz cremini mushrooms, sliced
1 large shallot, thinly sliced
3 cloves garlic, chopped, chopped
1 Tbsp fresh sage or thyme
1 Tbsp Dijon mustard
¼ cup chicken stock
2-3 Tbsps butter
3-4 Tbsps cream
olive oil
⅓ cup flour
Directions
Place the cut chicken halves between two pieces of plastic wrap, parchment or in a plastic bag, and with a mallet or rolling pin, pound to ½ inch thick. Set aside on a plate.
In a small bowl, combine Dijon mustard, 1 garlic clove and 2 Tbsps olive oil. Salt and pepper the chicken, then spoon the mustard mixture over each piece, turning to coat each sides. Set aside to marinate while preparing remaining ingredients.
Heat a large heavy skillet over medium high heat. Add 1 Tbsp butter and olive oil. When the butter is sizzling, add the shallot and cook for 2 minutes. Add mushrooms, pinch of salt and freshly ground pepper, and cook for 6 minutes or so, until mushrooms have released their juices. Then add the remaining garlic and sage and cook a few more minutes. Place in a bowl and set aside.
Wipe or rinse out the pan. Place the flour in a shallow dish and add a few grinds of pepper. Lightly dredge each chicken breast, shake off excess flour.
Heat skillet over medium. Add 1 Tbsp olive oil and butter. Once hot add half the chicken and cook until brown on each side 3-5 minutes (the chicken will finish cooking in the sauce). Return to plate and continue with remaining chicken. When finished place with other chicken.
Add half of the Marsala to the hot skillet and scrape the bits from the bottom. Cook a few minutes then add the remaining marsala, stock, chicken and mushrooms and continue to cook about 5 minutes to blend flavors. Remove the chicken to a serving platter, then add the cream and stir.
Serve over warm noodles, rice or mashed potatoes.
Take a look at our recommended pairing below.
Pairing Recommendation - Pinot