Deconstructed Eggplant Parmesan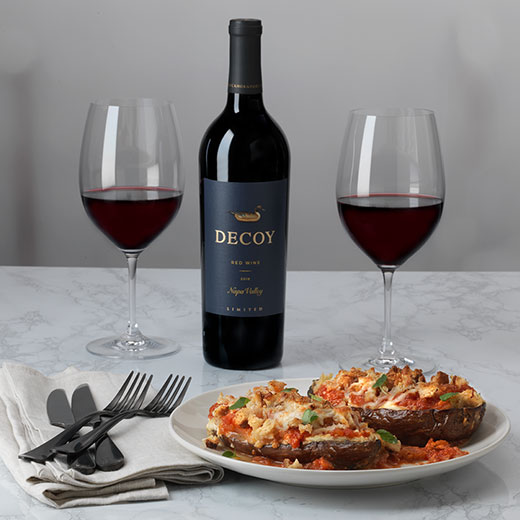 Yield: 4-6 servings
Prep: 20 minutes | Cook: 1 hour and 40 minutes
Total Time: 2 hour
Ingredients
2 eggplants, cut in half length wise with the stem attached
1 egg
12 oz ricotta cheese, drained
1 ¼ c grated parmesan cheese
2 cloves garlic, minced
1 onion, chopped
1 can (28 ounce) crushed tomatoes
olive oil
3 pieces artisan bread (1.5 cups)
2 Tbsps fresh oregano or basil
1 cup grated mozzarella cheese
¼ cup fresh chopped parsley for garnish
Directions
Preheat oven to 400 degrees F and line a sheet pan with parchment paper.
With a small, sharp knife, make 3-4 equal lengthwise cuts from stem to base. Then cut diagonal lines to create a hash mark pattern, making sure to not cut through the skin of each eggplant.
Place ¼ cup olive oil in a small bowl. Brush the olive oil on the cut side of each eggplant followed by a generous pinch of salt and freshly ground pepper. Place in the upper third of the oven for 30-40 minutes until the flesh of the eggplant is cooked. It should be mostly soft but not mushy. Remove and set aside.
While the eggplant is cooking, make the sauce. Heat a heavy skillet over medium heat, add olive oil, onion and a pinch of salt and pepper. Cook for a few minutes, then add 1 garlic clove and cook for a few more minutes. Add the tomatoes and 1 Tbsp chopped oregano. Reduce heat and continue to cook on a low simmer for 20-30 minutes.
In a medium bowl, combine 1 egg, ricotta cheese, 1 garlic clove, 1 cup parmesan, 1 Tbsp freshly chopped oregano, salt and freshly ground pepper. Mix until combined.
Make fresh breadcrumbs - they really do make a difference. Slice and toast 3 pieces artisan bread. Tear into small pieces, about the size of a kernel of corn or even a bit smaller. You should have about 1 ½ cups. Place in a small bowl and toss with olive oil, salt and freshly ground pepper.
Spoon half of the sauce into the bottom of a 9 by 13 inch baking dish. Next, arrange the eggplant on the sauce. Take a fork and press down the flesh of the eggplant and spoon the ricotta mixture evenly into each eggplant. Spoon a few tablespoons of sauce over the ricotta. Sprinkle ½ of the breadcrumbs followed by the mozzarella and a few handfuls of parmesan. Top with remaining breadcrumbs.
Bake in the middle of the oven for 25-30 minutes, or until the cheese is melted and the sauce is bubbling. Garnish with parsley.
Take a look at our recommended pairing below.
Pairing Recommendation - Red