Grilled Harissa Chicken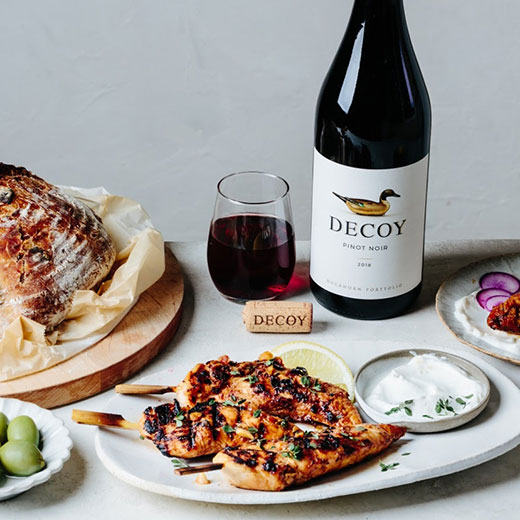 Yield: 4 servings
Prep: 5 minutes | Cook: 10 minutes
Total Time: 15 minutes
Recipe Courtesy of: Beyond Sweet and Savory
This quick and easy grilled harissa chicken recipe brings the bold flavor of harissa, accented with sweet paprika, herby thymes, and bright citrus note. Make the perfect pairing with a glass of Decoy Pinot Noir!
Ingredients
2 pounds chicken tenders
¼ cup olive oil
¼ cup harissa
1 tbsp paprika
2 Tbsps honey
1 Tbsp chopped thyme leaves
4 cloves of garlic, finely chopped
1 Tbsp lemon zest
½ Tbsp salt
½ tsp freshly ground pepper
Lemon wedges for serving
Directions
In a small prep bowl, whisk olive oil, harissa, paprika, honey, thyme, lemon zest, and garlic until combined.
Season chicken with salt and pepper. Thread chicken pieces onto skewers. In a shallow pan, lay them in a single. Pour the marinade over the chicken, toss well to coat. Leave the chicken in the fridge for 4 hours or overnight, turning halfway through.
About 30 minutes prior to grilling, remove the chicken from the fridge and bring it to room temperature.
Prepare a hot fire in a charcoal grill or preheat a gas grill to high (375°F to 400°F). Alternatively, heat a lightly oiled grill pan over high. Gently blot excess marinade from chicken to ensure a nice sear.
Grill skewers, turning every 4 minutes, until chicken is lightly charred and cooked through. Let it rest for 5 minutes while you prepare the sauce.
In a bowl, whisk yogurt, lemon zest, garlic, thymes, and salt until combined.
Serve chicken skewers with yogurt sauce and extra lemon wedges.
Tip!
Use chicken tenders because they minimize prep time. You can also chicken breast and thigh but you'll need to cut them into small pieces.
Take a look at our recommended pairing below.
Pairing Recommendation - Pinot