Korean Short Ribs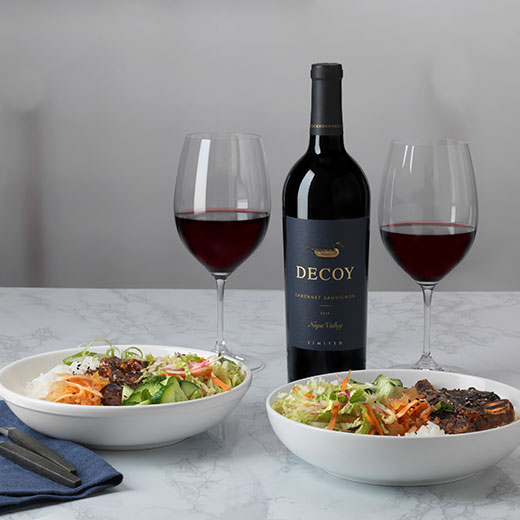 Yield: 4 servings
Prep: 1 hour | Cook: 20 minutes
Total Time: 1 hour and 20 minutes
Ingredients
3 lbs Korean style short ribs (also called Hawaiian cut)
½ cup prepared kimchi
2/3 cup gochujang - Korean chili paste
2 Tbsps fish sauce
2 Tbsps soy sauce
2 Tbsps honey or maple syrup
3 Tbsps toasted sesame oil
⅓ cup white wine
2 Tbsps fresh ginger, grated or minced
4 cloves garlic, minced
2 Tbsps lime juice
1 ½ cups Napa cabbage, finely shredded
1 carrot , finely shredded
2 Persian cucumbers, sliced
3 scallions, thinly sliced
1 small watermelon radish, shredded
4-5 cups steamed rice
sesame seeds to garnish
1 cup cilantro sprigs to garnish
1 lime, cut into wedges
Directions
In a small bowl, mix the chili paste, fish sauce, honey, sesame oil, wine, ginger, garlic and lime juice.
Rinse the short ribs quickly under cold water to remove any bone dust and dry with a paper towel.
Place the short ribs in a 9 x 13 inch baking dish, and cover with marinade. With tongs turn and rotate to thoroughly coat each rib. Cover with plastic wrap and refrigerate. Marinate for as long as you can - even overnight. Remove from refrigerator 30 minutes before cooking.
In a medium bowl, toss together cabbage, carrot, cucumber, scallions, radish and some cilantro leaves. Toss with a bit of olive oil, a squeeze of lime juice and a pinch of salt, then set aside.
Remove short ribs from the marinade and place on a plate. Pour the marinade in a small saucepan over medium heat and reduce to a sauce like consistency - about 5 minutes. Remove from heat and pour into a small serving bowl.
Heat a grill pan, heavy skillet or a grill over medium high heat. Brush grill or pan with a bit of oil and cook the short ribs 3-5 minutes per side, or until done to your liking.
Continue to cook all the ribs - placing the cooked ones on a serving platter tented with foil to keep warm.
To serve, place a serving of rice in a bowl with a short rib or two, top that with a handful of cabbage slaw and drizzle with some sauce. Then garnish with some sesame seeds, cilantro, a lime wedge and a spoon of kimchi.
Take a look at our recommended pairing below.
Pairing Recommendation - Cabernet