Pesto Chicken Quinoa Bowl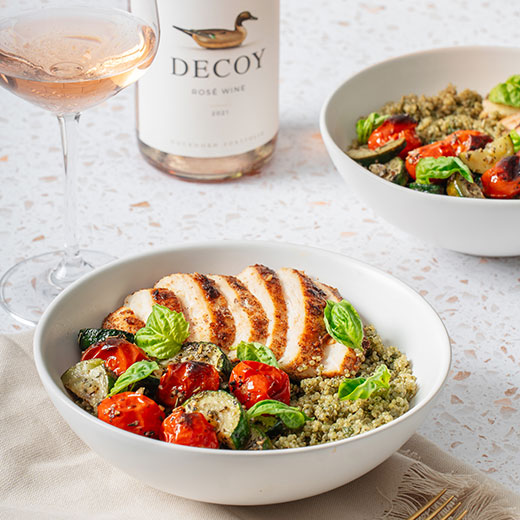 Yield: 2-3 servings as an Entreés
Prep: 20 minutes | Cook: 30 minutes
Total Time: 50 minutes
Creator: Takes Two Eggs
You deserve this simple weeknight dish with a crisp glass of Rosé by Decoy. The rich pesto and Italian flavors are complimented with a bit of Cajun heat and together that highlight the bright layers of this Rosé. This pairing is boldly balanced yet an approachable meal idea for any night.
Ingredients
1 lb boneless skinless chicken breast
2 zucchini, cut into ½ inch thick half moons
2 cups cherry tomatoes
1 tablespoon dried Italian seasoning
5 cloves garlic, minced
3 tablespoon extra virgin olive oil
½ teaspoon salt
½ teaspoon pepper
2 tablespoon Cajun seasoning
1 cup white quinoa
1 ¾ cup water
½ cup basil pesto
Fresh basil
Preparation
Cook the vegetables. Preheat your oven to 400º F. In a medium mixing bowl, toss the zucchini and tomatoes with dried Italian seasoning, garlic, olive oil, salt and pepper. Transfer to a baking sheet into a single layer. Roast on the middle rack of your oven for about 20 minutes until the tomatoes start to burst and the zucchinis are golden brown.
Cook the quinoa. While the vegetables are roasting, add the water and quinoa to a medium saucepan and bring to a boil over medium high heat. Once it begins to boil, lower the heat, cover and simmer until the water is absorbed, about 12-15 min. Let it sit for 5 minutes before fluffing the quinoa.
Cook the chicken. In a mixing bowl, toss the chicken with olive oil, Cajun seasoning and minced garlic. Add 1 tablespoon of olive oil on your skillet over medium-high heat. Cook the chicken until lightly charred and cooked through, turning halfway through cooking, about 4 minutes on each side. Remove from heat, cover with foil and let the chicken rest for 5 minutes before slicing.
Assemble. In a large mixing bowl, add the quinoa, roasted vegetables, and basil pesto. Gently fold together until combined. Portion out a single serving, add sliced chicken, and garnish with fresh basil. Enjoy!
Take a look at our recommended pairing below.
Pairing Recommendation - Rose