Rosemary Balsamic Pork Chops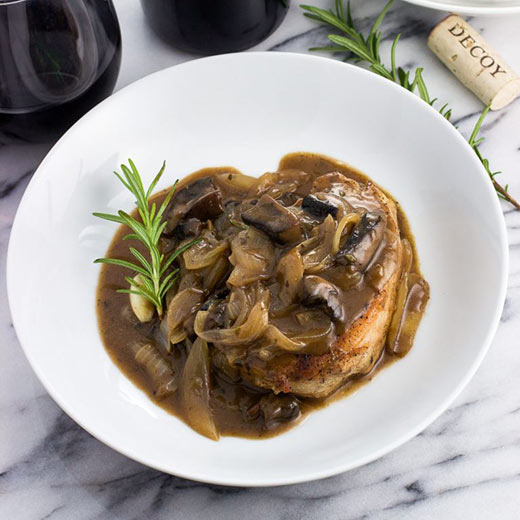 Yield: 4 servings
Prep: 12 minutes | Cook: 23 minutes
Total Time: 35 minutes
Recipe Courtesy of: Alyssa at My Sequined Life
Easy and delicious these skillet rosemary balsamic pork chops come together in one single pan for an elevated dinner recipe that pairs beautifully with a glass of Decoy Merlot!
Ingredients
4 boneless pork chops, about 1 ½" thick
¾ tsp salt
¾ tsp ground black pepper
2 tbsp olive oil
2 tbsp unsalted butter
4 oz sliced portobello mushrooms
1 onion, sliced
6 cloves garlic, whole
2 tbsp all-purpose flour
1 ½ cups reduced-sodium chicken broth
1 tsp fresh rosemary, finely diced
2 tbsp balsamic vinegar
Directions
Season both sides of the pork chops with the salt and pepper.
Add olive oil to a large pan set over medium-high heat. Once the oil is hot, add the pork chops in a single layer and cook for 2-3 minutes on each side. Once seared, remove pork chops to a plate.
Reduce the heat to medium and place the pan back on the stovetop. Add the butter and swirl it around the pan as it melts. Add the sliced mushrooms, sliced onion, and whole garlic cloves to the pan. Cook, stirring periodically, for 4-5 minutes or until the onions are becoming tender and golden.
Sprinkle the flour over top and stir until it is incorporated. Stir in the broth and the diced rosemary.
Add the seared pork chops back to the pan in a single layer. Reduce the heat to a simmer and cover the pan. Cook for 8 minutes, then pour in the balsamic vinegar, stirring everything up.
Bake for about 2 ½ to 3 hours.
Cook for another 3-4 minutes, or until pork reaches 145°F in the center of the thickest part.
Remove pork chops to a separate plate to rest. Place the pan back on the stove over medium heat and continue to cook until the sauce has thickened to your liking. Serve pork chops with sauce and garnish with fresh rosemary for serving.
Tip!
Using an instant-read thermometer is very helpful in assessing when your pork chops are done. You want the center of the thickest chop to reach 145°F.
Take a look at our recommended pairing below.
Pairing Recommendation - Merlot