Shrimp and Zucchini Korean Pancake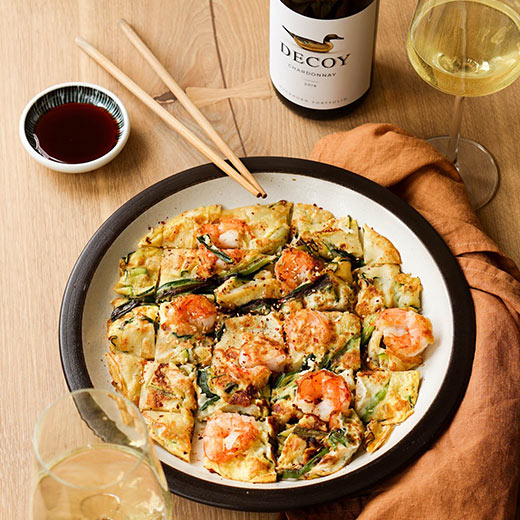 Yield: 1 large pancake
Prep: 5 minutes | Cook: 15 minutes
Total Time: 20 minutes
Recipe Courtesy of: Eat Cho Food
Enjoy a fun brunch at home with this Korean pancake that is crispy and chewy. The addition of the shrimp makes it the perfect pairing with a glass of Decoy Chardonnay!
Ingredients
1 zucchini sliced into thin ribbons
4 green onions
2 Tbsp canola oil
½ tsp salt, divided
8 large shrimp, peeled and deveined
1 tsp fish sauce
½ tsp sesame oil
1/3 cup all purpose flour
2 Tbsp cornstarch
½ cup water
1 egg
Soy sauce for serving
Directions
Slice the zucchini into thin ribbons using a Y vegetable peeler or a mandoline slicer and set aside. Cut the green onions into 5" long pieces and set aside.
Heat canola oil in a large nonstick pan over medium high heat. Once the oil is hot add the zucchini. Season with ¼ tsp of salt and toss the zucchini. Continue to cook for 5 minutes, until the zucchini is tender.
Add the green onions and the shrimp to the pan. Season with ¼ tsp salt, fish sauce, and sesame oil. Toss to combine and continue to cook for another 2 minutes. Arrange the shrimp and veggies in the pan so that they are evenly dispersed.
In a small bowl, combine flour, cornstarch, and water. Whisk until smooth. Pour the batter over the ingredients in the pan. Whisk the egg in a small bowl and then drizzle the egg over the batter.
Allow the pancake to cook for 5 minutes, until the bottom is golden brown and the edges are somewhat firm. Place a large plate over the pancake in the pan. Keep a firm grip and then flip the pan over and allow the pancake to lay on the plate. Slide the pancake back into the pan and allow to cook for another 3 minutes, until golden brown and the egg and batter is set.
Place the pancake on a clean plate and cut into 2" squares. Enjoy with soy sauce for dipping.
Take a look at our recommended pairing below.
Pairing Recommendation - Chard