Tuna Pasta Salad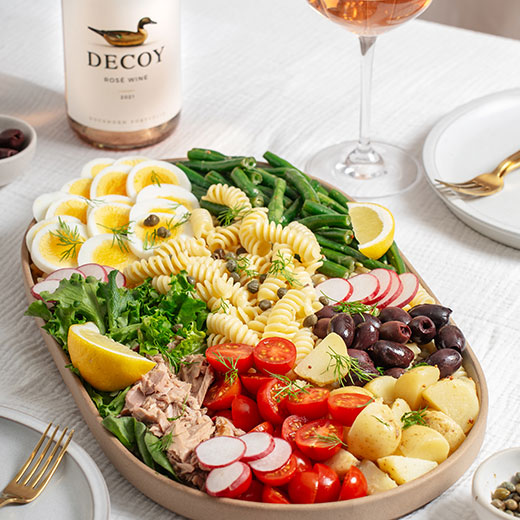 Yield: 2-3 servings as an Entreés
Prep: 10 minutes | Cook: 20 minutes
Total Time: 30 minutes
Creator: Takes Two Eggs
This deconstructed tuna pasta salad is as satisfying to piece together as it is to enjoy with a crisp glass of Rosé by Decoy. The rich lemon and mustard vinaigrette marry together the tuna and salad flavors beautifully. With the citrus undertones creating a harmonic flavor pairing with the bright layers of citrus and melon.
Ingredients
For the Dressing:
⅓ cup lemon juice
cup extra virgin olive oil
1 garlic clove, minced
1 tablespoon Dijon Mustard
½ tablespoon whole grain mustard
2 oil packed anchovies, minced
¼ teaspoon salt
¼ teaspoon pepper
For the Pasta Salad:
12 oz pasta
6 oz green beans, trimed and halved
½ pound small potatoes
3 hard boiled eggs, thinly sliced
4 radishes, thinly sliced
1 cup cherry tomatoes halved
¼ cup pitted Kalamata olives
6 oz oil packed tuna, drained
Capers
Fresh dill
Preparation
Make the vinaigrette. In a small mixing bowl, add the lemon juice, olive oil, mined garlic, Dijon mustard, whole grain mustard, minced anchovies, salt and pepper. Mixed until combined. Set aside.
Cook the pasta. Add salted water in a large pot and bring to a boil. Add the pasta and cook according to the package instructions until al dente. Drain and rinse the pasta with cold water. Toss the green beans with ⅓ cup of the vinaigrette.
Blanch the green beans. Bring a small pot of water to a boil over high heat. Add the trimmed green beans and blanch for 2 minutes. Drain and rinse with cold water. Toss the green beans with 2 tablespoons of the vinaigrette.
Cook Potatoes. Place the potatoes in a large pot and cover with 2 inches of water and add 1 tablespoon of salt. Heat on high and bring to a boil over high heat. Once it reaches a boil, lower the heat and simmer for 10 minutes or until potatoes are tender. Drain.
Prepare the potatoes. Cut the potatoes into halves or quarters and toss them with about ¼ cup of the vinaigrette.
Boil the eggs. Bring a small pot of water to a boil over high heat. Carefully add the eggs and boil for 10 minutes. Remove the eggs and place them in an egg bath for 5 minutes before removing the shells and slicing.
Assemble. On a serving platter, arrange the pasta, green beans, potatoes, hard boiled eggs, radishes, halved tomatoes, olives, and tuna. Drizzle the remaining dressing over the salad. Garnish with capers and fresh dill. Enjoy!
Take a look at our recommended pairing below.
Pairing Recommendation - Rose