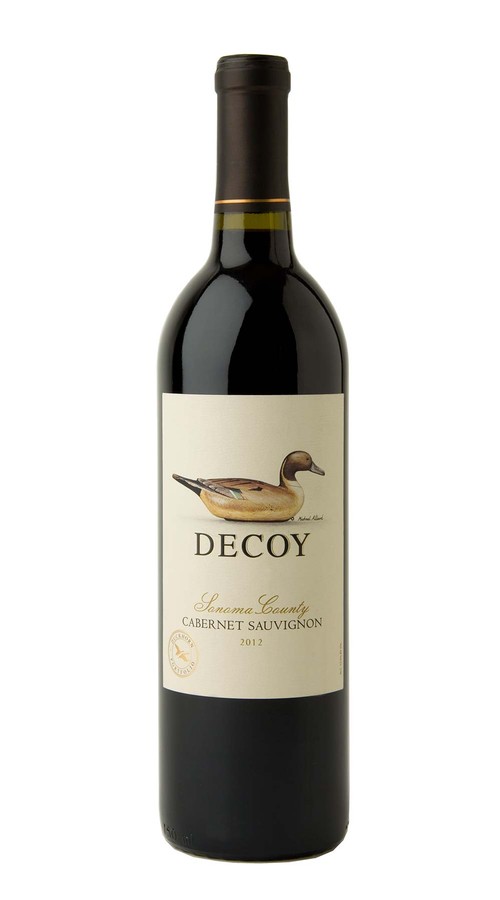 2012 Decoy Sonoma County Cabernet Sauvignon
Since 1978, Duckhorn Vineyards has been exploring the character and complexity of Napa Valley Cabernet Sauvignon. Drawing on our winemaking team's expertise working with this varietal, Decoy Sonoma County Cabernet Sauvignon offers a rich and appealing expression of the varietal crafted to be ready upon release.
Wine Profile
Production Notes
Varietal Content: 82% Cabernet Sauvignon, 10% Merlot, 6% Cabernet Franc, 2% Petit Verdot; Cooperage: 100% French Oak, 35% New
Winemaker Notes
The 2012 vintage has yielded a lush and appealing expression of Decoy Cabernet with alluring black cherry and raspberry jam aromas, as well as more subtle notes of nutmeg, spice and chocolate. On the palate, lovely layers of raspberry and plum are supported by excellent structure and seamlessly integrated oak.
Other Notes
Released: December 2013
Wine Specs
Wine Specs
Varietal
Cabernet Sauvignon
Appellation
Sonoma County
Harvest Date
September 27- October 29, 2012
Acid
0.57 g/100 ml titratable acidity
Aging
12 Months in Barrel
Bottling Date
November 2013
Product Reviews
Add a Review
Product Reviews
Kathryn Adams
(Feb 9, 2014 at 7:55 PM)
I am very passionate about Cabernet Sauvignon wines but i am not about this bottle. It has a very strong bitter taste that leaves you wanting to spit it up. It is not a bottle of wine I will be buying again after this experience. I hope their other wines are not a waste of time and money.
Caroline
(Feb 12, 2014 at 4:52 PM)
Wow! This is one stellar bottle of wine and one of the best values that I've had in years. Thank you Duckhorn!!
Joe
(Feb 19, 2014 at 12:50 PM)
I am very particular about my red wines and this is one of the best I have tasted. It is very flavorful with a pleasant aroma and is very reasonably priced. I highly recommend.
michael
(Apr 14, 2014 at 6:13 PM)
Very bold beautiful taste with crisp Spicey notes at the end.
robert
(Dec 18, 2014 at 6:25 PM)
This is one of our favorites. I'm not sure why one reviewer said they want to spit it out. They must be used to cheap sweet wines.
Mark
(Jan 9, 2015 at 4:13 PM)
This is the best 20 dollar bottle of Cab you can get. I enjoy this more than the Duckhorn Cab.
Kathy
(Feb 7, 2015 at 4:36 PM)
I love this wine! We like to go to Total Wines and buy a broad selection. This bottle was great! Will definitely buy more!
Aaron
(Feb 10, 2015 at 4:03 PM)
A great Cabernet Sauvignon with lots of character and a complex finish. I fully recommend it for all events.
Dan
(Feb 10, 2015 at 4:31 PM)
This is an excellent wine. It is a bright but not overwhelming in its bold flavor and leaves your palate slowly on a pleasant "nice-to-meet-you" note.
Gerardo negron
(Feb 21, 2015 at 7:35 PM)
Good wine, but i expected more, good balance, nice entry on mouth. Need more body. Good balance.
Pete
(Apr 12, 2015 at 6:57 AM)
Paired this with a prime rib roast and the deep bold flavor was perfect! This wine has the depth and complexity I usually only find with French wines. I think is your pairing is beef or wild game you will love it.
Zach
(Jun 3, 2015 at 3:44 PM)
This was my first time trying wine. I walked into Target and it was the only bottle that fit my personality. I loved it! At $25 I was a little hesitant, but it was so worth it! My money was well spent. 5 stars-A+ / Age(23)