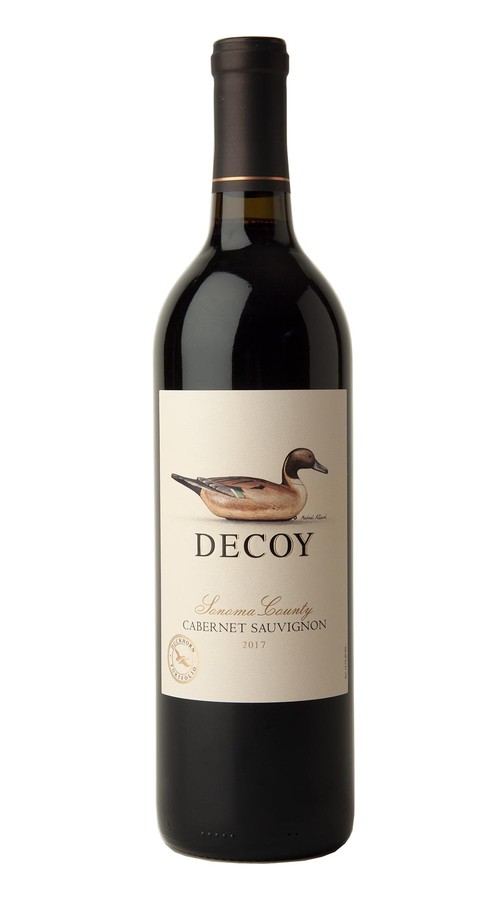 2017 Decoy Sonoma County Cabernet Sauvignon
Since 1978, Duckhorn Vineyards has been exploring the character and complexity of Napa Valley Cabernet Sauvignon. Drawing on our winemaking team's expertise working with this varietal, Decoy Sonoma County Cabernet Sauvignon offers a rich and appealing expression of the varietal crafted to be ready upon release.
Wine Profile
Production Notes
Varietal Content: 85% Cabernet Sauvignon, 10% Merlot, 3% Zinfandel, 1% Petit Verdot, 1% Petite Sirah; Winemaking: 100% French oak, 40% new
Winemaker Notes
From its deep, inviting color to its enticing layers of boysenberry, blackberry, plum and star anise, this wine showcases what we love about great Sonoma County Cabernet Sauvignon. On the palate, the lush fruit flavors are framed by rich tannins and hints of dark chocolate and barrel spice.
Production
2017 began with an abundance of winter rain, followed by mild spring temperatures that provided a nice slow start to the season. As the weather warmed up during summer, careful pruning resulted in excellent vine balance and ideal dappled shading on the grapes. The majority of our white varieties were harvested before the first heat spike, showing excellent depth and acidity. This same late-season heat helped our remaining white and red grapes achieve perfect ripeness. As a result, the overall quality in 2017 was amazing, with our whites displaying beautiful poise and lush fruit-forward flavors, and richly colored reds offering a lovely balance between concentration and complexity.
Wine Specs
Wine Specs
Varietal
Cabernet Sauvignon
Appellation
Sonoma County
Harvest Date
September 27 – October 25, 2017
Sugar
24.5° Brix at harvest
Acid
0.61 g/100 ml titratable acidity
Fermentation
15-20 days fermentation at 80°F
Product Reviews
Add a Review
Product Reviews
Chris
(Nov 8, 2019 at 8:05 AM)
We had this bottle of Cabernet Sauvignon for dinner that included a cheese and charcuterie board and then spaghetti. The wine is a deep burgundy color with a fruity aroma. And it doesn't seem quite as 'heavy' as some Cabs do. It paired well with the cured meats (some spicy) and hard goat cheese. Our spaghetti was with meatballs and red sauce. The match up left a strange floral taste on my palate. It may just be me because my husband didn't experience that. I would definitely suggest this for a steak dinner though, as well as a charcuterie and cheese course. I completed this review in exchange for compensation and free product, but all views are my own.
Angela Kraeske
(Nov 13, 2019 at 3:04 PM)
I enjoyed having this wine on a cold night with a rich and hearty beef and vegetable beef stew. It complemented the flavors perfectly. It would also pair well with some dark chocolate for dessert or some strong, salty cheeses as an appetizer. It's ideal for any gathering with rich and hearty foods. The wine is very good, but is even better after it aerates for an hour or so. I completed this review in exchange for compensation and free product, but all views are my own.
Sarah Morgan
(Nov 14, 2019 at 11:39 AM)
I am a big fan of Cabernet Sauvignon and the Decoy Sonoma County Cabernet Sauvignon was absolutely amazing. We had this wine with a chicken and vegetable dinner and it complimented the meat so well. It was full, rich and had a warm spice which was excellent after an extremely cold day. I also enjoyed that the smell which included notes of blackberries and a hint of tobacco spice. I would love to have this wine again, especially during Thanksgiving with some blueberry pie or dark chocolate cake. I completed this review in exchange for compensation and free product, but all views are my own.
Heather
(Jan 20, 2020 at 11:51 PM)
I've been easing into Cabernet since becoming a wine enthusiast and loving it. So I brought this one to a Christmas party and not only was it very smooth and delicious but I was pleasantly taken aback by the wonderful aromas that literally jumped out of the glass! I was in the middle of conversation while casually swirling the glass on my lap and the aromas hit my nose and made me speechless for a second....I was used to putting my nose in the glass! Excellent wine for the price!