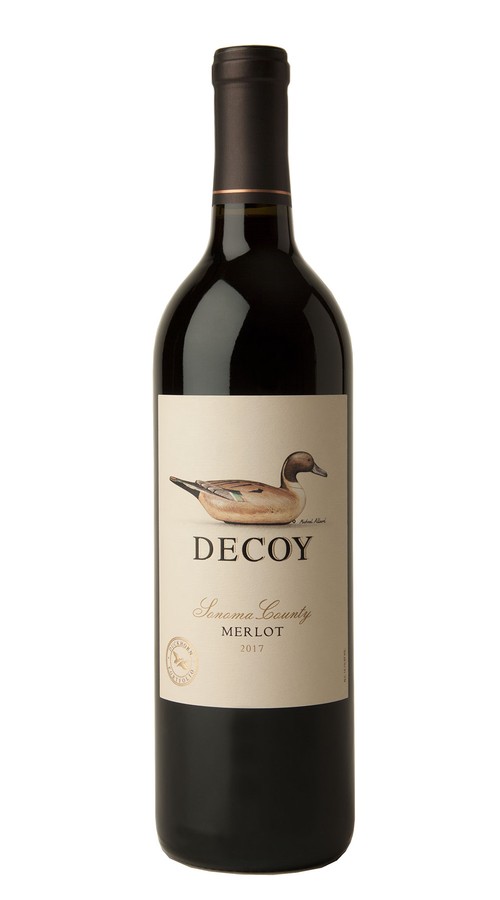 2017 Decoy Sonoma County Merlot
For more than four decades, Duckhorn Vineyards has been crafting exceptional Napa Valley Merlot reflecting the rich diversity of the valley's many appellations Drawing on our winemaking team's expertise working with this varietal, Decoy Sonoma County Merlot is a lush and inviting wine highlighting the elegance of the varietal from another exceptional growing region.
Wine Profile
Production Notes
Varietal Content: 96% Merlot, 4% Cabernet Sauvignon; Cooperage: 100% French oak
Winemaker Notes
This lush and inviting Merlot displays enticing aromas of blueberry, raspberry and cassis, underscored by a French oak-inspired hint of cocoa. The layers of luxurious fruit continue on the palate, where lively acidity adds poise and structure, and silky tannins carry the wine to a long, juicy finish.
Production
2017 began with an abundance of winter rain, followed by mild spring temperatures that provided a nice slow start to the season. As the weather warmed up during summer, careful pruning resulted in excellent vine balance and ideal dappled shading on the grapes. The majority of our white varieties were harvested before the first heat spike, showing excellent depth and acidity. This same late-season heat helped our remaining white and red grapes achieve perfect ripeness. As a result, the overall quality in 2017 was amazing, with our whites displaying beautiful poise and lush fruit-forward flavors, and richly colored reds offering a lovely balance between concentration and complexity.
Wine Specs
Wine Specs
Harvest Date
September 5 - October 20, 2017
Sugar
25° Brix at harvest
Acid
0.63 g/100 ml titratable acidity
Fermentation
10-15 days fermentation at 80°F
Product Reviews
Add a Review
Product Reviews
Jenn
(Nov 1, 2019 at 1:22 PM)
My husband threw me a party here at home for my 30th birthday and this 2017 Decoy Sonoma County Merlot was a hit! I wish we had more bottles here but we will definitely be snagging more! We aren't huge wine drinkers but love fruity reds and this one was absolute perfection -- delicious! We used it as just a party drink and didn't pair it with dinner this time but when we get more, I think it would be great with a nice at-home steak dinner or even a great drink to serve during the holidays as it would be great for a variety of guests whole love a great red wine! We will definitely be buying more of this!
I completed this review in exchange for compensation and free product, but all views are my own.
Archana Pinnapureddy
(Nov 12, 2019 at 11:04 AM)
We don't typically drink a lot of Merlot, but the Sonoma County Merlot from Decoy is quite delicious. It is a blend of 96% merlot and 4% Cabernet Sauvignon from Napa Valley. The wine has a deep ruby color and black current/Blackberry nose and palate with hints of spice. It is a medium to full bodied wine. It is well balanced with high acidity, black fruit and medium tannins with a medium finish. We served it with Indian food and it paired nicely. I completed this review in exchange for compensation and free product, but all views are my own.
Ashley
(Nov 12, 2019 at 3:59 PM)
I enjoyed this 2017 Decoy Sonoma County Merlot with my husband on a 'date night in' - dinner first, then a movie at home. We paired the wine with a bone-in ribeye steak, roasted asparagus and an arugula salad (which proved to be a great choice for the occasion). The flavors complemented each other perfectly. The wine was amazing! We absolutely loved it, and agreed that it's our new favorite merlot to pair with steak. In the glass the wine had a rich beautiful color, with pleasant aromas that included some subtle fruity notes. I was especially impressed by the silky smooth finish. "I completed this review in exchange for compensation and free product, but all views are my own."
Erica Key
(Nov 13, 2019 at 11:32 AM)
I recently had the chance to try a 2016 Decoy Sonoma County Merlot. This red wine is a new favorite. The packaging is elegant and sophisticated. The wine has layers of black cherry, blueberry, and cassis. The color of the wine is beautiful and rich. This wine is perfect for the holiday season and I love the quality for the price point.
I completed this review in exchange for compensation and free product, but all views are my own.
Dan Dawson
(Feb 17, 2020 at 7:16 AM)
Loads of ripe, dark red and blue berries, pomegranate and a smidge of vanilla & toasted pastries introduce the Decoy Merlot 2017. In the mouth it's more of the same: ripe but not overripe, smooth and rich. I pick up some cocoa and bay leaves, but first & foremost I get fruit in this low-tannin, medium acidity, drink-me-tonight wine.
Decoy's umbrella-winery Duckhorn knows a thing or two about making premium Merlot. As a premium-value label, Decoy aims to delivery exceptional value. It sets up to bring us an exceptional $25 bottle of, for all intents and purposes, "Estate" Merlot. Most of the grapes are sourced from Decoy/Duckhorn's "Ridgeline Vineyard" in Alexander Valley. 4% Cabernet Sauvignon. All French-oak aged, partly new.