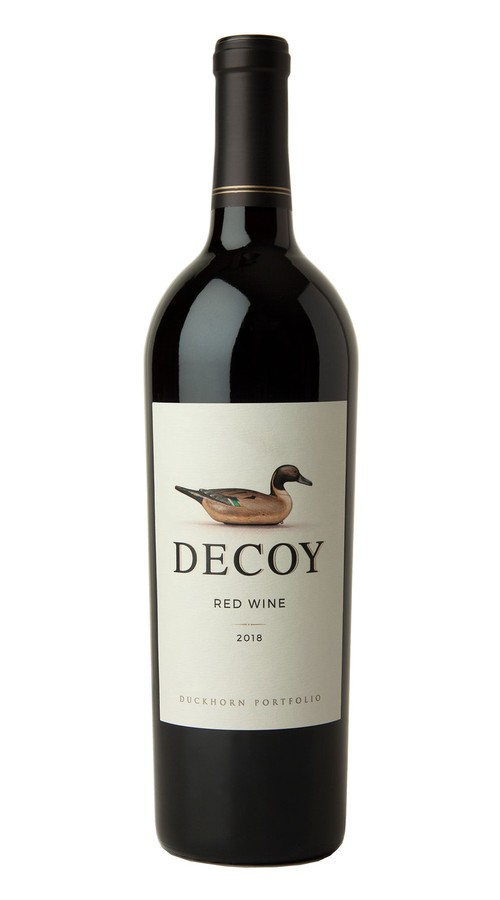 2018 Decoy Sonoma County Red Wine
The core blend for this appealing Sonoma County Red Wine pairs the elegance of Merlot with the complexity of Cabernet Sauvignon. Reflecting the character of each growing season and the diversity of our vineyard sources, Decoy has established itself as a wine of distinction.
Wine Profile
Production Notes
Varietal Composition: 52% Cabernet Sauvignon, 37% Merlot, 6% Petite Sirah, 2% Zinfandel, 2% Carignan, 1% Syrah
Winemaker Notes
With alluring layers of blueberry, blackberry and wild strawberry, as well as hints of anise and vanilla, this impeccably balanced wine offers silky tannins and rich, mouth-filling flavors. The finish is lush, elegant and energetic, highlighting the best of Sonoma County.
Production
The 2018 growing season began with a cool winter, and just enough rain to replenish the vineyards. A temperate spring followed by mild weather throughout the summer allowed the grapes to ripen at a very measured pace, something we love to see in our vineyards. After several years of early harvests, the relatively mild weather and a healthy sized crop led to a return to more normal harvest times. After enjoying abundant hangtime to fully ripen, the quality of the grapes was extremely impressive. Overall, our 2018 whites and rosé show an ideal combination of lovely fruit-forward flavors and elegance, while the reds are lush and complex, with great color and concentration.
Wine Specs
Wine Specs
Appellation
Sonoma County
Product Reviews
Add a Review
Product Reviews
Kimberly Boettcher
(Jul 13, 2020 at 11:44 AM)
This is nothing like the Decoy Red Blend we have loved in the years past. It is terrible.
OSCAR GONZALEZ
(Sep 6, 2020 at 7:39 PM)
I have an upset stomach for wines, I am constantly searching for a wine that I can tolerate. I run a cross a 2016. Excelente. I Highly recommend it.
Alex
(Nov 24, 2020 at 10:01 AM)
Absolutely one of my favorites from Decoy! It's my go-to Friday night wine!
Bill Keeney
(Jan 10, 2021 at 4:32 PM)
A wonderful red wine that pairs well with a rich hearty Italian dish. Not overpowering but full of interesting flavor notes and with a smooth finish. Decoy always seems to get it right.
David
(Jan 29, 2021 at 6:19 PM)
My go to red for daily drinking. Terrific.
Raygen Lee
(Oct 11, 2021 at 7:06 PM)
I loved the complexity and balance between the blueberry fruit and bitter tannins. More than anything, I love that a wine this amazing is affordable.