Hummus Pasta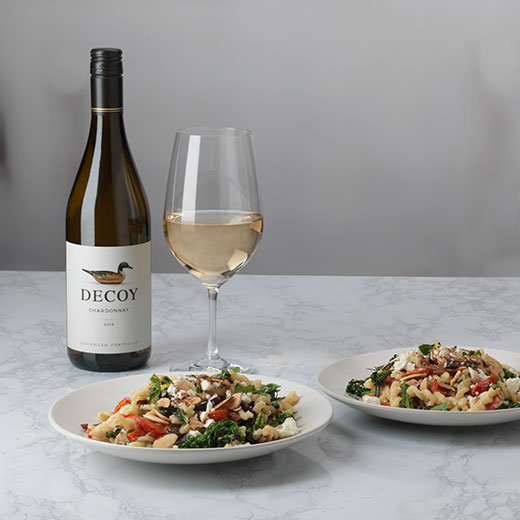 Yield: 4 servings
Prep: 10 minutes | Cook: 15 minutes
Total Time: 25 minutes
This pasta dish is great if you are looking for a healthy, delicious and quick one-pot dinner. It's flavorful, colorful and the hummus and pasta water make this creamy sauce that you almost think is cream. This is a great treat for vegetarians, however you'll be pleasantly surprised that everyone will enjoy it.
Ingredients
12 oz whole wheat, rice or other pasta
1 cup hummus
1 small red pepper, cleaned, and thinly sliced
1 small bunch broccolini, chopped
1 cup kalamata olives, halved or quartered
Zest and juice from 1 lemon
½ cup reserved pasta water
Olive oil
½ cup toasted sliced almonds
¼ cup chives and parsley, chopped
1 cup feta cheese crumbled
sprinkling of sumac for garnish (optional)
Directions
Cook pasta according to the package directions. Be sure to reserve ½ cup pasta water when draining pasta.
Sauté the red pepper in olive oil over medium heat for 3-5 minutes, then add the broccolini and salt. Cook a few more minutes, then set aside.
Add hummus and red pepper mixture to drained pasta. Toss until well combined, add half of pasta water and stir.
Add the lemon zest and juice, olives, almonds and herbs. Toss and adjust the sea-soning to your desired taste, adding more pasta water if needed to thin sauce.
Serve and garnish with a sprinkling of feta, sumac and a drizzle of olive oil.
Take a look at our recommended pairing below.
Pairing Recommendation - Chard