Salmon Teriyaki Bowl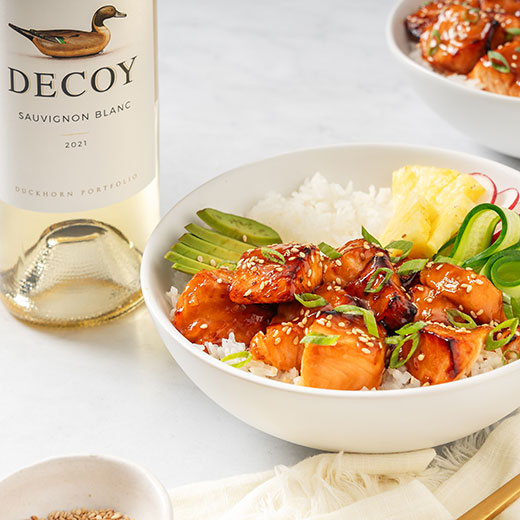 Yield: 2-3 servings as an Entreés
Prep: 10 minutes | Cook: 20 minutes
Total Time: 30 minutes
Creator: Takes Two Eggs
This sweet and savory Salmon Teriyaki Bowl is best enjoyed with a crisp glass of Sauvignon Blanc by Decoy. This aromatic and sweet teriyaki sauce gives depth to the easy-to-make air fryer salmon cubes. Alongside the Sauvignon Blanc, the bright flavor notes pair together for a crisp refreshing dinner for two.
Ingredients
For the Teriyaki Sauce:
1 teaspoon ginger, grated
1 teaspoon garlic, minced
¼ cup soy sauce
¼ cup mirin
¼ cup sake
3 tablespoons brown sugar
2 teaspoon cornstarch
2 teaspoon water
1 teaspoon sesame oil
For the Salmon Bowl:
1 lb Salmon, cut into 1 inch cubes
2 cups cooked white rice
¼ cup of fresh pineapple, cut into small bites
1 avocado, sliced
1 cucumber, sliced
1 radish, thinly sliced
2 stalks Green onions, sliced
Toasted Sesame seeds
Preparation
Make teriyaki sauce. Heat the same medium skillet on medium heat. Once the pan is hot, add 1 tablespoon of vegetable oil and the ginger and garlic. Saute for 1 minute until lightly browned and fragrant. Then add the soy sauce, mirin, sake, and brown sugar. Bring the mixture to a simmer.
Thicken the teriyaki sauce. In a small bowl, mix together 2 teaspoon cornstarch with 2 teaspoon of water until dissolved. Then add the cornstarch to the teriyaki sauce and mix for 30 seconds. Chill in the refrigerator until it reaches room temperature.
Marinate the salmon. In a small mixing bowl, add the cubed salmon and toss with ⅓ of the teriyaki sauce. Cover and marinate for 15 minutes in the refrigerator.
Airfry the salmon. Place the marinated salmon in the airfryer basket leaving space between each piece and brush a thin layer of the teriyaki sauce on top. Lightly spray your airfryer with cooking oil and air fry at 400°F for 5-6 minutes or until the internal temperature is 145°F.
Assemble. Brush the remaining teriyaki sauce over the salmon and garnish with toasted sesame seeds and green onions. Serve in a bowl of warm rice with sliced avocado, cucumber, radish, and fresh pineapple.
Take a look at our recommended pairing below.
Pairing Recommendation - SB