Turkey Burger with Green Olive Pesto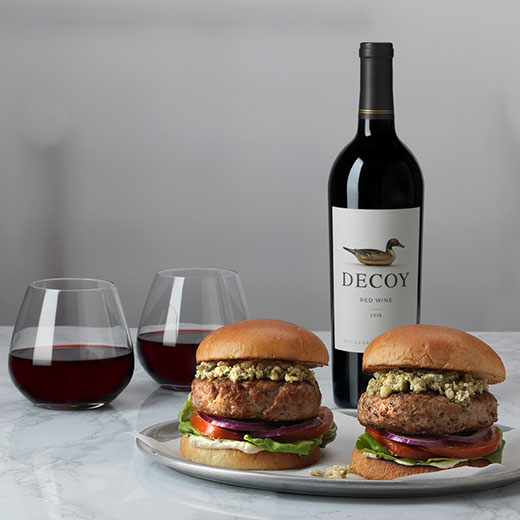 Yield: 4 servings
Prep: 15 minutes | Cook: 25 minutes
Total Time: 40 minutes
Ingredients
1.25 lbs ground turkey thigh meat
1 shallot, minced
4 brioche or potato buns
4 butter lettuce leaves
Thinly sliced red onion and tomato
4 slices jack cheese - optional
Olive Pesto
1 cup green olives, pitted
2 cloves garlic
½ cup grated parmesan
½ cup Marcona almonds (or any almond will do)
¼ cup parsley, chopped
¼ cup chives, chopped
1 lemon, zested and juiced
⅓-½ cup olive oil
Directions
Pesto
Place almonds in food processor and pulse 3-5 times until pea size pieces.
Add all other ingredients plus a pinch of salt and freshly ground pepper and pulse 3-4 more times until incorporated and chunky. Taste and adjust as needed. Place in bowl and set aside.
Burgers
In another bowl place ground turkey and add 1 tsp salt and freshly ground pepper and minced shallot. Mix together, and make into 4 patties.
Prepare grill pan, skillet or grill to medium high heat. When hot, add a bit of oil and grill burgers 5-7 minutes per side or until done.
Toast buns. Prepare buns with desired condiment (mayo, mustard), lettuce, tomato and red onion, top with burger and a dollop of olive pesto.
Take a look at our recommended pairing below.
Pairing Recommendation - Red