Crispy Avocado Fries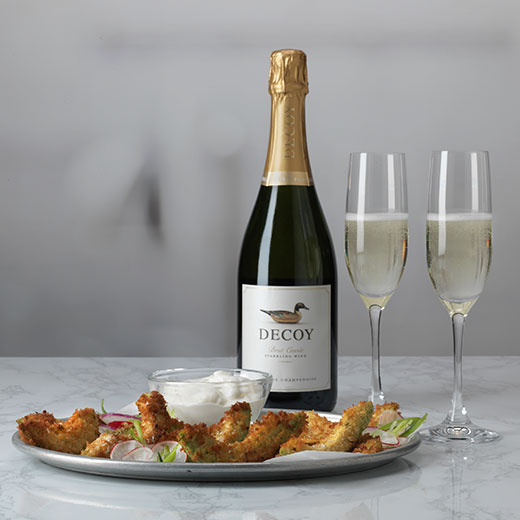 Yield: 4 servings
Prep: 20 minutes | Cook: 20 minutes
Total Time: 40 minutes
These are quick and delicious appetizer that will leave friends and family very impressed. Just don't let them know how easy these are to make.
You can use the oven, stove top or even your air fryer to prepare them. Don't forget your favorite dipping sauces!
Ingredients
3 firm, ripe avocados - halved, peeled, seeded and cut into ¼-½ inch slices
1 lime, zested and juiced
1 cup panko or other preferred bread crumbs (panko gives the fries a nice texture)
1 egg - whipped with a Tbsp of water to thin it
¼ tsp cayenne pepper
salt and pepper
Avocado oil or other preferred frying oil if pan cooking
Directions
Prepare your avocados by halving, peeling, and removing the pit. Then cut into ¼ to ½ in. slices and squeeze fresh lime juice on them.
Place bread crumbs on a plate. Add pinch of salt, cayenne and lime zest. Mix together.
Crack egg into a low sided bowl add a tablespoon of water and whisk together.
Dip each avocado slice in egg then gently roll in panko and pat to cover. Place on plate and repeat with all remaining slices.
Heat a heavy skillet over medium high heat. Add oil and heat until shimmering. Place 5-7 avocado slices in the oil, cook on each side until golden brown, then place on a paper towel lined dish. Continue cooking all slices. Monitor heat as needed. Sprinkle with flaky sea salt.
If using the oven, prepare avocado slices as described above then place on a parchment lined sheet pan and bake in 450 degree oven for 8-12 minutes until crispy. Be sure to turn as needed.
Recommended Sauces
Prepare sauces and refrigerate until ready to use.
Blue Cheese dipping sauce
½ cup greek yogurt or sour cream
¼ cup mayonnaise
⅓ cup blue cheese, crumbled
1-2 tsp lemon juice
pinch of salt and freshly ground pepper
optional - add chopped fresh herbs - chives, parsley or dill
Combine all ingredients in a small bowl, taste and adjust seasoning if necessary. If you prefer a thinner sauce you can add 1-2 tablespoons of milk to reach your desired consistency. Cover and refrigerate until needed.
Cilantro yogurt dip
1 cup greek yogurt
¼ cup chopped cilantro
pinch of salt and freshly ground pepper
1 tsp lime juice
1 garlic clove - crushed
Combine all ingredients in a small bowl, taste and adjust seasoning.
Take a look at our recommended pairing below.
Pairing Recommendation - Sparkling