German Pancake with Mixed Berries and Ricotta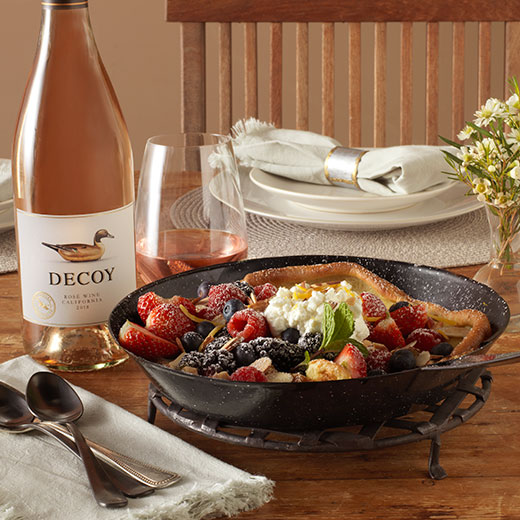 Yield: 6 servings
Prep: 10 minutes | Cook: 20 minutes
Total Time: 30 minutes
A brunch favorite, this german pancake with mixed berries and ricotta will be a hit especially paired with a bottle of Decoy Rosé.
Ingredients
2/3 cup flour
2/3 cup milk
3 large eggs
1 tbsp sugar
pinch of salt
4 tbsp butter
1 tsp vanilla
½ cup strawberries - stemmed and sliced
½ cup raspberries
½ cup blueberries
½ cup ricotta cheese
1 tbsp honey
1 tbsp lemon zest
⅓ cup sliced almonds - toasted
powdered sugar for garnish
Preparation
Preheat the oven to 400°F
Prepare 10-12 inch cast iron skillet by rubbing with butter, place in hot oven to heat pan and melt butter, just until butter is melted and pan is hot.
In a medium bowl whisk together the flour, milk, eggs, vanilla, sugar and salt.
Remove hot skillet and swirl butter - add batter and return to oven and bake for 15-20 minutes until pancake has set, sides are puffed nicely browned.
While pancake is cooking prepare berries and almonds.
In a small bowl mix ricotta cheese with honey and lemon zest.
Remove pancake from oven and top with berries, almonds and a light dusting of powdered sugar.
Serve
Serve immediately with lemon ricotta.
SEE OTHER BRUNCH RECIPES
Pairing Recommendation - Rose