Fish en Papillote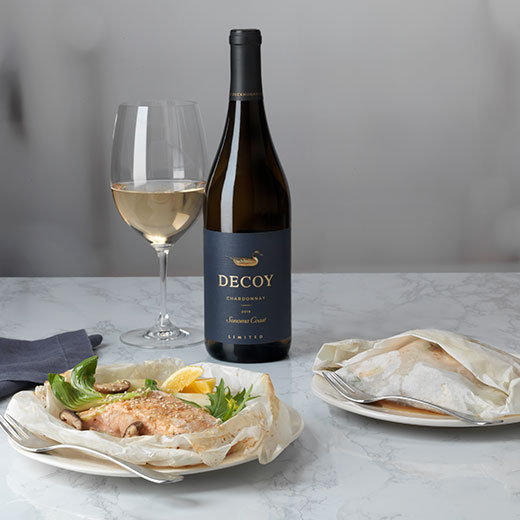 Yield: 4 servings
Prep: 15 minutes | Cook: 15 minutes
Total Time: 30 minutes
This unique way of cooking fish is a traditional French cooking technique. You will be amazed at how easy, delicious and impressive this recipe will be for your family or guests. The fish stays moist, and you can experiment with other ingredients depending on your flavor preference. To serve, each person will get their own little parcel (en Papillote).
Ingredients
4, 4-6 oz pieces of fish - salmon, halibut, rockfish or other fish - skin and bones removed. Ask your butcher to do that for you when you purchase the fish.
4 baby bok choy, halved or quartered
2 scallions, thinly sliced
6 oz of shiitake mushrooms, thinly sliced
1 tsp grated fresh ginger
½ tsp lemon zest
3 tbsp soy sauce, tamari or coconut aminos
3 tbsp toasted sesame oil
3 tbsp white wine
Sesame seeds for garnish
Directions
Preheat oven to 400 degrees F.
Lay out 4 sheets of 9 x 11 in parchment paper on a sheet pan.
Clean and prepare bok choy, scallions, mushrooms, ginger and lemon zest. In a bowl combine ginger, lemon zest, soy, sesame oil, and wine. Whisk together.
Salt and pepper the fish. Layer bok choy on the parchment, followed by the mushrooms and scallions.
Set the fish on top of the vegetables and spoon 2 tsp of the soy mixture on the fish. Fold the top and bottom of the paper to meet in the center, and fold over one another to close up. Then fold up each side until you have roughly a 5 by 7 inch rectangle that is completely sealed. Repeat with the other 3 pieces of fish.
Place parchment parcels on a sheet pan and bake 12-15 minutes, depending on thickness of fish.
Serve fish immediately on individual plates. After opening you can garnish with sesame seeds.
Take a look at our recommended pairing below.
Pairing Recommendation - Chard