Mushroom Flatbread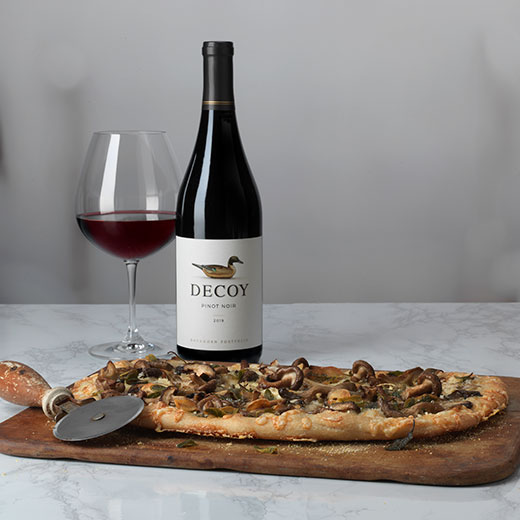 Yield: 4 servings
Prep: 15 minutes | Cook: 12 minutes
Total Time: 27 minutes
Fun for any date night, this mushroom flatbread is quick and delicious!
Ingredients
6-8 oz pizza dough - bring to room temperature 1-2 hours before making pizza. This makes it much easier to make a thin, flatbread style crust
6 oz thinly sliced mushrooms - shiitake, cremini and oyster work great, but any combination will be delicious
2 cloves garlic, thinly sliced
2 tbps fresh sage leaves, torn or chopped
½ cup grated fontina cheese
2 tbps grated or shaved parmesan cheese
cornmeal and flour
Optional extra toppings - drizzle of aged balsamic vinegar, or truffle oil or salt and fried sage leaves and pepper flakes for garnish
Directions
Preheat oven to 450 degrees F. If you're using a pizza stone, it's a good idea to place the pizza stone in the oven as it preheats, to help make a nice, crispy crust. It's best to preheat oven for at least one hour before baking pizza, especially if using the stone.
In a skillet over medium-high heat, add a drizzle of olive oil.
Once hot, add mushrooms and cook for a few minutes then add garlic, sage, a pinch of salt and freshly ground pepper. Sautee for a few more minutes until the mushrooms begin to release their juices – about 5-7 minutes total. Remove from heat and place in bowl. Prepare any other ingredients and toppings.
On a lightly floured surface, stretch or roll the dough until it is thin. It should be roughly 12 in by 8 in. If you are using a pizza stone, transfer the dough to a floured or cornmeal layered pizza peel, or you can prepare the pizza on parchment and transfer to the hot stone that way.
If you are using a pizza pan, sprinkle with cornmeal. Then, working rather quickly, brush the dough lightly with olive oil, layer the fontina and mushrooms, then sprinkle with parmesan and sage.
Slide the dough onto the stone in oven for 8-12 minutes. (to insure the pizza will slide off the peel, shake it a few times and make sure it is moving on the peal) Turn if needed for even browning.
Remove to a pizza pan or board, slice, and serve.
Take a look at our recommended pairing below.
Pairing Recommendation - Pinot