Pulled Pork Sliders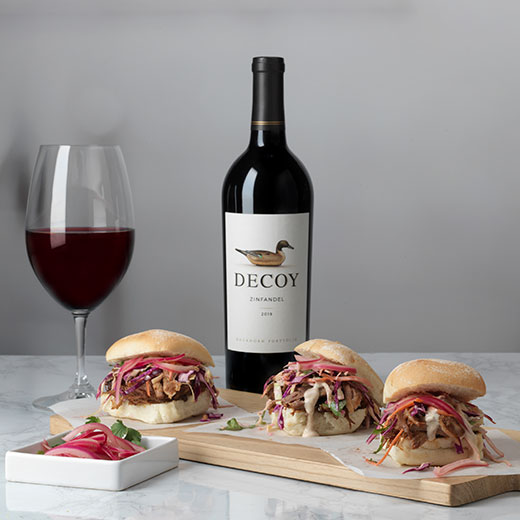 Yield: 4 servings
Prep: 30 minutes | Cook: 2 hours and 30 minutes
Total Time: 3 hours
There are several ways to make these delicious sweet and tangy sliders, depending on how much time you have! You can cook the meat in a dutch oven on the stove top or in the oven, or you can use your Instant Pot or a slow cooker.
Ingredients
3 lbs pork butt, cut into 3-4 pieces
½ onion, finely chopped
3 cloves chopped garlic
1 tbsp molasses
1 tbsp maple syrup
½ tsp cayenne pepper
1 tsp smoked paprika
1 tsp salt
1 tsp freshly ground pepper
1 cup apple cider vinegar
½ cup water
8-10 Slider buns
Optional - 1 cup of your favorite barbecue sauce to serve with sliders
Directions
Preheat oven to 350 degrees F.
Season the pork with salt and pepper. Heat dutch oven on stove top.
Add a drizzle of olive oil, and sear the meat well on all sides. Add onion, garlic and spices.
Cook a few minutes, then add vinegar, water, molasses and syrup.
Place in the oven for 2 ½ hours or so until the meat pulls apart easily. Turn pork 1-2 times during cooking. While the meat is cooking make and refrigerate the slaw.
Remove the meat from the sauce and set aside in a large bowl to briefly cool.
Using a ladle, remove as much fat as you like from the sauce. Place sauce on medium heat to reduce it. Taste and adjust if needed.
Take two forks and shred the meat into small pieces. Add as much of the reduced braising liquid as you like. If you prefer a more saucy version of a slider, add ½ cup or more of your favorite barbecue sauce.
To serve toast buns, put a spoonful of pork on the bun. Top with the slaw and pickled onions.
Toppings
Slaw
6 cups finely shredded cabbage (we like to do a mix of purple and green)
1 small carrot, finely shredded
2 scallions, finely chopped
⅓ cup chopped cilantro
⅓ cup mayonnaise
2-3 Tbsp lime juice
Salt and freshly ground pepper
In a large bowl, combine the cabbage, carrot, scallions and cilantro. Toss together. In a small bowl, whisk together the mayo, lime juice, salt and pepper.
Quick Pickled Onions
1 red onion, halved and thinly sliced
½ cup vinegar (apple cider, red wine or other)
1 Tbsp sugar
1 ½ tsp salt
In a small pan, bring vinegar to a boil. Add salt and sugar stirring to dissolve. Place onions in a small jar and pour hot liquid over. Let sit on counter for 10 minutes then refrigerate until ready to use.
Take a look at our recommended pairing below.
Pairing Recommendation - Zinfandel