Butternut Squash and Kale Strata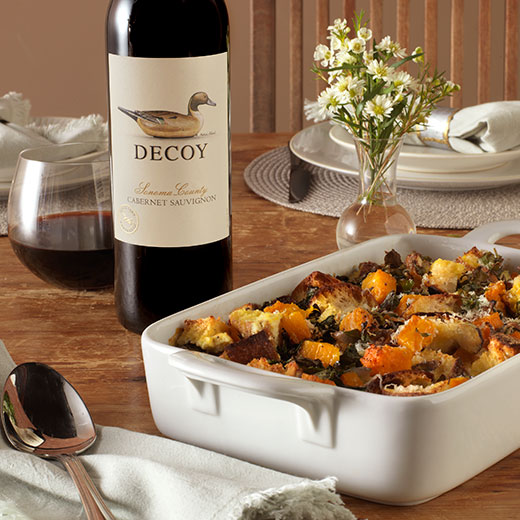 Yield: 8-10 servings
Prep: 15 minutes | Cook: 2 hours
Total Time: 2 hours and 15 minutes
Ingredients
1 small butternut squash - peeled, seeded and cut into ½ inch squares
2 medium red onions - sliced
1 bunch kale - ribs removed and leaves chopped
3 garlic cloves - chopped
1 tablespoon thyme - chopped
½ baguette or other bread - cut into cubes (about 5 cups)
½ cup freshly grated parmesan cheese
1 cup half and half or milk
10 large eggs
freshly ground nutmeg
olive oil
3 tablespoons butter
Preparation
Preheat the oven to 425°F
On a parchment lined baking sheet - toss butternut squash with olive oil, salt and pepper. Bake until tender and caramelized about 20 minutes. Remove from oven and set aside.
While squash is cooking prepare all other ingredients. Sauté onions in olive oil until caramelized - when almost finished add garlic, thyme and kale and saute' just until kale is wilted. Set aside in bowl.
Slice bread into cubes.
In a large bowl beat eggs with half and half, salt/pepper and freshly ground nutmeg.
Butter baking dish and then begin to layer ingredients - 1/2 of the butternut squash, kale and bread cubes followed by a sparkling of the cheese - then another layer of each.
Pour egg mixture over the top and press down to make sure all the bread is covered with egg, sprinkle the top with remaining cheese.
Let sit for 30 minutes to one hour or cover and refrigerate overnight for an easy brunch dish the next morning.
Heat oven to 350 degrees and bake uncovered for 40-50 minutes until egg is set and cooked through.
SEE OTHER BRUNCH RECIPES
Pairing Recommendation - Cabernet